Director grows by 'unlearning' valuable skills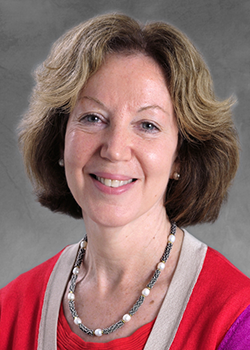 Long before embarking on career in Human Resources, Vicki Rawlinson knew she would work some day in a "helping profession."
 "I always knew I wanted to help people.  I was always the one who tried to mediate whenever there were problems between people," said Rawlinson, Global Head Human Resources Vaccines and Diagnostics for Novartis.
In college, she discovered a strong interest in business, so she combined the two interests by majoring in Industrial and Labor Relations.  It was that same twin passion for people and productivity that attracted her to Leadership Coaching for Organizational Performance (LCOP) at Rutgers University, which begins June 16, 2020 at the Rutgers Continuing Education Center in Somerset, NJ.
'Curious' Listening To Earn ICF Certification
"I've always admired great coaches and their ability to bring out the best in people.  I had done business coaching informally, but I wanted a better understanding of how great executive coaches get results," she said.
Ironically, "unlearning" one of her signature skills was one of the most valuable lessons she took away from the Leadership Coaching program, which leads to certification from the International Coach Federation.
"I learned I had to turn off my impulse to dive in and solve a problem. I had to get away from 'you meet with me for an hour and we leave with an action plan,' she said. "Business Coaching is not a one-shot, let's-solve-this-problem-and-go experience."
Instead, in her role as an Executive Coach at Novartis' Cambridge, Massachusetts location, she now actively works to listen more closely, more "curiously," for clues that reveal hidden, underlying causes of problems.  Ignoring that problem-solving impulse was a challenge for many of the experience, high-achieving students in her group, she said.
"We were finding that we had to flex and use different muscles to become more patient listeners," she said.  "It's a tension I feel constantly. I force myself to be a more curious listener and ask powerful questions, to not just try and solve the immediate issue."
Executive Coaching Skills in Action
But powerful questioning need not be -- should not be -- prosecutorial, she said.  "You have to build empathy and trust to be able to go to deeper level – to get the real "why" behind the issue.  You won't get there with just the fives "Ws."
In a recent meeting at Novartis, she found herself applying those skills in devising strategies to minimize turnover.  Rather than accepting salary differentials as the main reason for a recent departure, she asked the group to pause with her to reflect.  "I had the confidence to ask to go deeper. I said "I'm curious to see if there are other reasons at work here. Maybe it's not just about money."  The result: an open discussion that produced actionable strategies on non-monetary issues.
Rawlinson enrolled in the Leadership Coaching program to develop new insights in her current position, but she sees broad opportunities to apply those insights in future roles.   "It's a skill set I can apply anywhere. Asking great questions and helping others open up and explore new possibilities can be useful in almost any role I pursue ahead."
The four levels of active listening are examined in the first of five modules in the Executive Coaching program along with strategies for asking powerful questions.